Books for Classroom Lessons, Class Read Aloud, Groups, and Individual Counseling
I have a Google Spread sheet off 1,000 books used in the school counseling program classified by topic. Here are some of the ones I use frequently:
Novels for 5th Grade "Book Clubs"
Book Clubs are a great way to reach lots of students with no "stigma" attached. We typically schedule the "Clubs" to last 4-6 sessions depending on length and depth of book and objectives. In the first session of Book Club we distribute the books and give each member a bookmark with the reading schedule. These bookmarks often have places to record brief notes and we give out sticky notes to mark passages as well. For each book we created enrichment or extension assignment sheets. Each member is asked to do one (usually there are 4 or 5 choices) and bring in the assignment the last session to share with the group.
We use these books for groups with boys and girls (separately) to learn personal/social skills, including communication and cooperation. Fifth graders are self-conscious about being in a counseling group but there is no stigma to a Book Club. Our PTA generously bought multiple copies of the titles we selected. We have close to half of our fifth graders sign up to do a book club with one of the counselors.
Summer Ball by M. Lupica - themes include being the underdog, giving 100%, and never give up
The Strange Case of Oragami Yoda and Darth Paper Strikes Back - written as case files from a different character's point of view - angst of middle school
The Girls by A. Koss - The queen bee of mean girls controls the lives of her peers
Stargirl by J. Spinelli - Explores the idea of individuality vs. conformity
Another great book for a book club or reading circle is...
Wonder by R. J. Palacio
August (Auggie) Pullman was born with a facial deformity that prevented him from going to a mainstream school—until now. He's about to start 5th grade at Beecher Prep, and if you've ever been the new kid then you know how hard that can be. The thing is Auggie's just an ordinary kid, with an extraordinary face. But can he convince his new classmates that he's just like them, despite appearances?
This book should be shared and discussed. It can be used in a Book Club or as a class read aloud (grade 4 or 5). Several parents at my school read it aloud to their own children in third grade. We use it to further our discussion of treating others as we want to be treated and not bullying others. At the
Help Readers
is a visual guide to assist in using the book as a class read aloud.
Out of My Mind by Draper
Eleven-year-old Melody has a photographic memory. Her head is like a video camera that is always recording. Always. And there's no delete button. She's the smartest kid in her whole school;but no one knows it. Most people, her teachers and doctors included, don't think she's capable of learning, and up until recently her school days consisted of listening to the same preschool-level alphabet lessons again and again and again. If only she could speak up, if only she could tell people what she thinks and knows . . . but she can't, because Melody can't talk. She can't walk. She can't write.
Books about Adoption
Bringing Asha Home by Uma Krishnaswami
This picture book tells the gentle story of eight year old Arun who finds it difficult to wait for the adoption and arrival of his new sister from India. The wait drags on past her first birthday. It is perfect for a sibling waiting for a new child to join the family through adoption.
The Magical Friendship Garden by Rebekah Barlow Rounce
This picture book celebrates the hopes of a young blond haired girl for her little sister from Ethiopia. It is a hopeful story of the joy of adoption and becoming a mixed-race family.
I Wished for You - An Adoption Story by Marianne Richmond
A small teddy bear asks his mother about his adoption and she answers him with love and affection.. This gentle book conveys a warmth and affection about adoption that is well worth sharing with your young child.
What is Adoption? Helping Non-adopted Children Understand Adoption
by Sofie Stergianis and Rita McDowall
This book which teaches children and adults about adoption. Through a question and answer format, it nicely demonstrates

the positive use

of adoption language. The book is a useful education tool or teachers who are discussing adoption in early elementary grades.
The Best Single Mom in the World: How I Was Adopted by Mary Zisk
A single adoptive mother and her young daughter take turns sharing their adoption story at bedtime... Throughout the book a warm feeling of belonging is emphasized.
Twice-Upon-A-Time: Born and Adopted by Eleanora Patterson
This book talks about both birth and adoption. It is a good read aloud to children in grades 2 or 3.
A Mother for Choco by Keiko Kasza
This is a charming book about a little bird wishing for a mother. He searches all over for animals that look like him but ends up being adopted by a loving bear. The conclusion is a mother is a person that is there for you and takes care of you, she does not need to look like you.
Did My First Mother Love Me? A Story for an Adopted Child
by Kathryn Ann Miller
This is a letter written from an birth mother to her daughter. This is a reassuring book for young children that uses positive adoption language.
Little Miss Spider by David Kirk
Little Miss Spider is born and she is looking for her mother. Again the message is a mother is someone who loves you best not someone that looks like you.
You're Not My Real Mother! by Molly Friedrich
Those words most adopted children say to their adoptive parents are handled in a way that can lead to an open dialogue about how "real" this special relationship is…
Happy Adoption Day by John McCutcheon
This book is a song that the author wrote for friends who adopted a baby. The boy who is adopted has Asian features.
Let's Talk About It: Adoption by Fred Rogers.
Mr. Rogers believed in talking to children straight about real life issues. Both parents and children will enjoy this book.
Books about Anger
Finn Throws a Fit
The Grouchies
Steps and Stones
When Sophie Gets Angry - Really, Really Angry
Zach Gets Frustrated
Books about Anxiety
Please Explain Anxiety to Me!
Scardies Away!
What to Do When You Worry Too Much
David and the Worry Beast
Is a Worry Worrying You?
A Boy and A Bear
Don't Panic, Annika!
Wemberly Worried
Wilma Jean The Worrying Machine
When My Worries Get Too Big
The Kissing Hand
Something Might Happen
Just in Case
Scaredy Squirrel
Books about Diversity
One of my favorite books to use in kindergarten or first grade to teach about diversity and prejudice is A Pig Is Moving In by C. Fries.
When Henrietta Hen, Nick Hare, and Doctor Fox learn that a pig is moving into their building, they are appalled. Everyone knows that pigs are dirty and messy, and this pig seems to be no exception. While neither Henrietta, Nick, nor Dr. Fox has had a chance to meet the pig in person, careful observation has confirmed their worst fears. The book can be used to facilitate a discussion about a variety of differences.
This is the book I use to teach diversity in second grade. After we discuss the author's purpose they do an activity where they represent their own heritage, background, and other things that make them unique.
This is the book I use in third grade. I have them do a pre-post survey where they predict some of the facts. They are surprised by many of them, especially the number of Asians!
Check out this link to find resources on diversity specific to groups (example: Korean Americans) multiculturalchildrenslit.com
Today I Am by Mies van Hout is a beautifully illustrated book with each open page containing the label of a single emotion and a fish illustrating that feeling. It covers 20 basic feelings in all. The simple text allows it to be used for a variety of activities in counseling. The illustrations are very engaging for a young reader. This book also comes as an interactive iPad app. The app version not only allows it to be read on the iPad but a child can record the feeling they are experiencing today. This could also be used in counseling or recommended to parents as a way to help their child learn about and express feelings.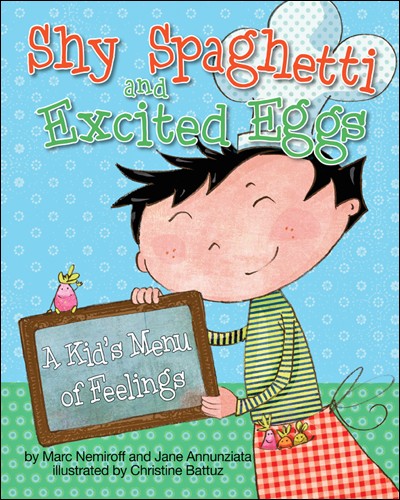 One of my favorite books about emotion is Shy Spaghetti and Excited Eggs. I like it because it talks about both pleasant (comfortable) emotions and unpleasant (uncomfortable) ones. It also talks about how both types can be hard to handle when they have lots of energy.
Books about Empathy
Teaching empathy through books makes so much sense because children can make text to self connections. Some of my favorites include:
The Invisible Boy
Last Stop on Market Street
Sam and the Lucky Money
Those Shoes
Rude Cakes
When Emily asks her big sister what the word empathy means, Emily has no idea that knowing the answer will change how she looks at people. But does it really matter to others if Emily notices how they're feeling?
Stand in My Shoes
shows kids how easy it is to develop empathy toward those around them. Empathy is the ability to notice what other people feel. Empathy leads to the social skills and personal relationships which make our lives rich and beautiful, and it is something we can help our children learn. This book teaches young children the value of noticing how other people feel.
Books about Families with Nontraditional Structures
These books include families that come in many shapes, sizes and structures:
ABC: A Family Alphabet Book
by Bobbie Combs
All Families Are Special
by Norma Simon
And Tango Makes Three
by Justin Richardson and Peter Parnell
Antonio's Card/La Tarjeta de Antonio
by Rigoberto Gonzalez
Carly: She's Still My Daddy
by Mary Boenke
Daddy, Papa, and Me
by Lesléa Newman
Emma and Meesha My Boy:
A Two Mom Story
by Kaitlyn Taylor Considine
Everywhere Babies
by Susan Meyers
Families Like Mine: Children of Gay Parents Tell It Like It Is by Abigail Garner
Heather Has Two Mommies:
20th Anniversary Edition
by Lesléa Newman
In Our Mothers' House
by Patricia Polacco
King and King
by Linda de Haan and Stern Nijland
King and King and Family
by Linda de Haan and Stern Nijland
Sources: Parent Services Project, Madison Metropolitan School District, Cooperative Children's Book Center
Every child will be able to relate to at least one of the colored pencils in this story so artfully created by Julia Cook. Her book is picture perfect in showing all of us what it takes to build relationships and make friends.
The Jelly Donut Difference focuses on siblings who don't get along and is a great recommendation for Parents.
These are 3 books students enjoy that can be used in small groups or classroom lesson to teach kindness.

My favorite book is "Each Kindness" by J. Woodson, a powerful book about how each small act of kindness makes the world a better place. It works for grades 2-5. For my K-1 students I read "Kindness to Share from A to Z" by T. Snow or for grades 1-2 is "Kindness Is Cooler, Mrs. Ruler" by M. Cuyle.
Books about Mindfulness
Ishi by Akiko Yabuki
Mindful Monkey, Happy Panda by L. Alderfer
Silence by Lemniscates
A Handful of Quiet and Planting Seeds by Thich Nhat Kanh
Books about Mindsets
The Most Magnificent Thing by A. Spires
Your Fantastic Elastic Brain by J. Deck
The Dot by P. Reynolds
Everyone Can Learn to Ride a Bicycle by C. Raschka
Books about Problem Solving
Arthur's Eyes by Brown
But It's Not My Fault by Cook
A Chair for My Mother by Williams
The Doorbell Rang by Hutchins
I Did It, I'm Sorry by Buehner
I Have a Little Problem, Said the Bear by Janisch
It Wasn't My Fault by Lester
Ladybug Girl and Bumblebee Boy by Davis & Soman
Prudy's Problem and How She Solved It by Armstrong-Ellis
Stuck by Jeffers
Swimmy by Lionni
Talk and Work It Out by Meiners
What to Do With a Problem? by Yamada & Besom
Books about Self-regulation
Self-regulation begins with body awareness. Listening to My Bodyby Gabi Garcia has many excellent strategies to teach children to be more mindful of their body sensations. Julia Cook has a whole series of books about RJ which address various aspects of self-regulation.
There are so many great books that promote self-esteem that can help children realize it is good to be unique instead of part of the "pack." Some of my favorites are Spoon by Amy Krouse Rosenthal, Bad Case of Stripes by David Shannon, and Spaghetti in a Hot Dog Bun by Maria Dismondy.
Howard B. Wigglebottom books
The We Do Listen Foundation is a nonprofit that produces books, songs, games, lessons, posters, and animated free books. The material promotes inner peace and effective communication strategies. The books teach through the adventures of Howard B. Wigglebottom, an endearing bunny. The books teach how to listen, solve problems, resolve conflicts, and increase positive feelings about self and others. The materials could be used in classroom lessons (animated books can be projected through Smartboard), used in individual and group counseling sessions, and recommended to parents for family sharing. The character and materials works exceptionally well with boys in grades 1-3. There are new books released frequently. Check out the web site
www.wedolisten.org