and

Annual Book Discussions
Family Resource Packs
In 2009 our PTA began funding the development (and maintenance) of resource packs on topics the pupil services staff is asked about most frequently. The selection of topics was strictly need based. We had been asked for resources on anxiety, divorce, homework, death and illness, sleep issues
,
etc
. So we initially developed 20 packs, and have added 5-10 a year ever since. We currently have over 60. If we are asked for resources on a topic several times and we don't have a pack, one of us develops one. The packs contain a binder with an overview of the topic, a list of books for parents and children, websites, Apps, and other resources. Each pack contains at least one parent book and one child book on the topic. Where
possible we
put in activities the family can do with the topic. For example, in one of the anxiety packs we give materials and directions to make a comfort object that will fit in a child's pocket. We have
found though
feedback (each pack contains 2 evaluation forms: parent and child) what people find most useful, and suggestions to improve the packs. The feedback led us to split several of our packs between primary and upper elementary. These include anxiety, anger, death, and divorce. We have specialized some of our packs like "Separation Anxiety" vs. "Social Anxiety." Parents check these packs out and are asked to return them in 2 weeks. We have a sign out
book
and since we have so many they are now stored in bins in the Teachers Lounge. Eventually all the packs except one (the one on moving) has been returned. The pupil services staff (but mostly me) periodically updates the packs adding new books, websites, Apps, and activities.
Book Discussions
The Counseling Advisory Committee searched for an alternative to Parent Presentations to meet the needs of more parents because several of our workshops had low attendance (after considerable time and effort). We tried online parent/staff book discussions. In the past we discussed "Little Girls Can Be Mean" because of the amount of relational aggression we were dealing with as young as kindergarten. We did that discussion through our Blackboard
site but
parents found it awkward to log in (they had to use their own child's account). The next year we discussed "Boys Adrift" because parents struggle with the decision to send young boys to kindergarten and boys often seems too impulsive for school. We used a link of the Counseling Corner Web Page and that was
easier but
we had to advertise that parents could post anonymously because some people did not feel comfortable signing their names in the comments. Based on feedback we now scheduled a single session Book Discussion evening for our book, I provide copies of the book to my Advisory Council to "prime the pump."
Great Books
Here are some of the books we have used for Parent/Staff Book Discussion and some that are included in one of the Family Resource Packs.
Recent Evening Book Discussions
Most recently we read "Tap, Click, Read: Growing Readers in a World of Screens" by Guernsey and Levine. The book gives educators and parents an evidence-based guide to the ever growing challenge of raising children in a digital media age.
In 2017 we read
Unselfie
which really tied in with the Second Step lessons taught by counselors in the classroom on empathy. The author provides a discussion guide which made this an easy evening to lead
Unselfie-Discussion-Guide.pdf
IWe read How Children Succeed. Paul Tough reveals ways in which parents do and do not prepare their children for adulthood. He emphasizes grit, character, and curiosity over cognitive skills.
Parenting
I was first introduced to this book at a workshop for supporting military families. If you go to the
Scream Free web site
you can buy a copy of the book and they will send a free copy to a military family. I think this book is very valuable because it addresses how we as parents need to change, not change our children. You can download a free chapter of the book to see if you think it is valuable before buying.
Relational Aggression
Little Girls Can Be Mean
(2010) M. Anthony & R.
Lindert
This book is a guide to the social lives of elementary-school girls. It is engaging, clear and wise. It will keep parents from making mistakes that increase daughter's suffering. From research studies to mainstream media, the problem of social aggression has been the subject of growing concern, but most of the recent focus has been on middle- and
high-school
students, not on elementary-school girls. That's part of the problem, argue the authors of this reassuring guide, which offers practical tips and personal anecdotes aimed at alleviating female "relational aggression" in the critical early grades. In each chapter, the authors, both developmental psychologists, illustrate how adults can guide girls through a four-step process to identify and deal with tough social situations. Throughout, boxed activities for educators, parents, and girls themselves give the tide a highly interactive, proactive feel, and an appended section
suggests
ways that adults can apply the same techniques to their own lives. More than just advice about preparing girls to cope with bullying, gossip, and friendship riffs, these are empowering strategies for adults to communicate and connect with their daughters while they are at a highly receptive age and to help them develop resiliency for the future. We used this book for our first online
parent staff
book club.
Parents can order some very useful resource books (for girls and parents) at two levels

at

this web site.
A Way Through
Bullying
In
Bullied
, Goldman brings together the expertise of leading authorities with the candid accounts of families dealing firsthand with peer victimization to present proven strategies and concrete tools for teaching children how to speak up and carry themselves with confidence; call each other out
on
cruelty; resolve conflict; cope with teasing, taunting, physical abuse, and
cyberbullying
; and be smart consumers of technology and media.
Pa
renting Boys and Girls
Why Gender Matters, Boys Adrift & Girls on the Edge
, by Leonard Sax
Leonard Sax, the founder of the National Association for Single Sex Public Education, writes books that are very helpful to parents trying to figure out how to raise boys and girls.

His first book on this topic, Why Gender Matters

reviews

the research showing that girls are born with more sensitive hearing than boys, and that the difference increases as children grow up. So if a male speaks to a girl in what he thinks is a normal voice, she may hear it as yelling.

When boys appear to be inattentive in class, they may need to be closer to their soft spoken female teacher. It also explains the brain research that explains why it is so hard for males to express feelings.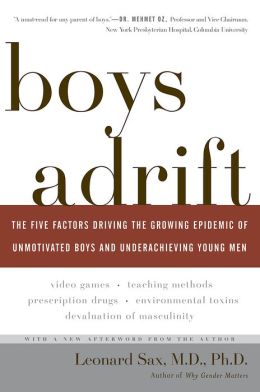 In Boys Adrift

he

explains that the main reasons for male disengagement in the real world is mainly due to 5 causes: 1) Video Games; 2) Teaching Methods; 3)
Prescription Drugs
; 4) Endocrine Disruptors; and 5) Devaluation of Masculinity.

This book is probably the most thought provoking for parents.

Finally, in Girls on the Edge he outlines four points that need to be addressed to combat problems facing many girls in our society: 1) sexual identity; 2) the

cyberbubble

; 3) obsessions; and 4) environmental toxins. Sax's are based on research and that when new research is available he updates his books on his web page
www.leonardsax.com


Overall, I recommend these books to teachers, counselors, and parents raising boys and girls in America today. He challenges the reader to consider holding many children (especially boys) out of kindergarten for a year, the value of sports, how to problem solve with girls vs.

boys

, and many other practical matters.
Anxiety
Allison Edwards's book Why Smart Kids Worry: And What Parents Can Do to Help (2013) has 15 tools for parents to use to help anxious children.
Freeing Your Child from Negative Thinking
Dr. Tamar Chansky frequently counsels children (and their parents) whose negative thinking creates chronic or occasional emotional hurdles and impedes optimism, flexibility, and happiness. This book specifically focuses on negative thinking in children, provides parents/guardians and clinicians clear, concise, and compassionate guidance
.
Dr.
Chansky
thoroughly covers the underlying causes of children's negative attitudes, as well as
providing
multiple strategies for managing negative thoughts, building optimism, and establishing emotional resilience.
Homework
Homework: A Parent's Guide to Helping Out Without Freaking Out!
(2011) In this parenting book Neil McNerney forces parents to focus on their own behavior and how it is facilitating or making homework
worse
. It teaches parents how to consult with children and manage their own reactions. I think counselors should encourage parents to follow Neil's advice.